Ingredients
Silencis Pro gathers potent vitamins and nutrients, sourced from all-natural elements.
Find below the full list of ingredients: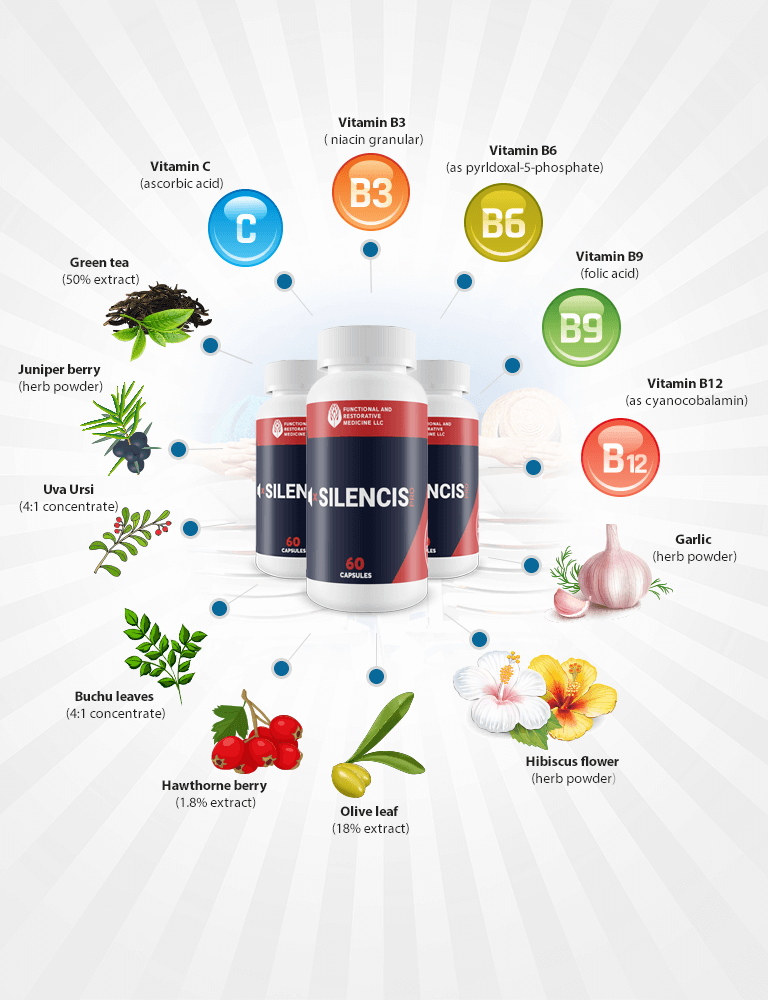 Other ingredients: Gelatin (bovine), microcrystalline cellulose, vegetable magnesium stearate, silicon dioxide.
Allergen warning: contains soy!
Recipient holds 60 capsules.
Serving size: 1 Capsule two times per day.
---
Do not use the Silencis Pro pills if you are pregnant, nursing, or have the following conditions: high blood pressure, heart disease, thyroid disease, glaucoma, diabetes, difficulty urinating due to prostate enlargement, or if you are now taking a prescription monoamine oxidase inhibitor (MAOI) (certain drugs for depression, psychiatric or emotional conditions, or Parkinson's disease), or for two (2) weeks after stopping the MAOI drug. If you are uncertain whether your prescription drug contains an MAOI, consult a physician before taking this product. Do not exceed recommended dosage.
While vitamin and mineral supplements are widely used and generally considered safe, you may wish to check with your doctor or pharmacist before taking these or any other dietary supplements. If you plan to use a dietary supplement in place of drugs or in combination with any drug, tell your health care provider first. Many supplements contain active ingredients that have strong biological effects and their safety is not always assured in all users.
SUPPLEMENTS MAY INTERACT WITH PRESCRIPTION AND OVER-THE-COUNTER MEDICINES.
Taking a combination of supplements or using these products together with medications (whether prescription or OTC drugs) could under certain circumstances produce adverse effects. Be alert to advisories about these products, whether taken alone or in combination. For example: Coumadin (a prescription medicine), ginkgo biloba (an herbal supplement), aspirin (an OTC drug) and vitamin E (a vitamin supplement) can each thin the blood, and taking any of these products together can increase the potential for internal bleeding.
Statements made here have not been evaluated by the Food and Drug Administration. The FDA Does not evaluate or test herbs. Consult with your physician for diagnosis or treatment. Use herbs as per instructions and always watch for any allergic reactions.